Tuesday, January 3rd, 2012
Eccola Italian Bistro Restaurant
1082 US Highway 46 W
Parsippany, NJ 07054
(973) 334-8211
Good Food : 4.5/5 | Good Service : 4/5
The first time I tried Eccola was during a late night arrival to Parsippany, NJ. I've been back 2 more times when some of my co-workers have also been in Parsippany and each time have not been disappointed.
I've had several of Eccola's salads and never gotten a bad one. Their house salad is made up of a lettuce mix of radicchio, romaine, iceberg. The salad comes with homemade fried croutons and 1/8 roma tomato wedge. Eccola's dressing reminded me of another local favorite Italian restaurant's dressing – a slight tang from the vinegar/oil mix but also light on the tongue. I've also tried their seasonal summer salads and never been disappointed with the ingredients combinations.
The restaurant boasts that their pasta is made in-house, so I've tried several different pasta dishes so far – eggplant ravioli, their gnocchi special and orrechiette.
The eggplant ravioli comes bathed in a slightly tart tomato/basil sauce from the usage of plum tomatoes. This was advertised as a mushroom sauce, and it came with multiple mushroom types used for mushroom medley. I could taste and see the olive oil floating on top of tomato sauce, which had been added as a last-minute finishing step. The ravioli was cooked slightly under-done from al-dente, with a very dense eggplant filling that was satisfying.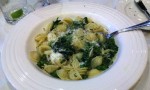 The orrechiette is tossed in a white wine butter sauce and comes with sauteed broccoli rabe and freshly grated Parmesan cheese and is a nice light dish if you don't feel like a heavy tomato-based pasta dish.
But my current favorite is their beef gnocchi special : potato gnocchi with pan-seared filet mignon tips, mushrooms, peppers, onions and gorgonzola cheese crumbles in a Barolo red wine reduction demi sauce. The gnocchi are soft 'melt in your mouth' potato pillows, just firm enough to  stand up to the heavy red sauce and meat pieces. The mushroom and bell pepper pieces go well with the beef tips, and the Barolo demi sauce just ties everything together.
My only disappointment so far was their risotto – while the rice was perfectly al dente cooked with a creamy sauce, there was little to no salt in the dish, requiring the waitress to add lots of freshly grated cheese to give the dish some flavor. And the shrimp I ordered with the dish were also not seasoned – blanched in hot water a little too long.
Service has always been consistent – I've never had a problem with seating, and the various wait staff are very attentive, promptly filling empty water or wine glasses without seeming to intrude or rush your dining experience. You have to ask for olive oil if you don't like butter with your bread, and this may come plain or seasoned depending on which wait staff you get. My complaint about going here is that Eccola is a popular place on Route 46, so the dining room has always been full regardless of which day it is & the noise factor does force you to speak louder than normal. The restaurant is located in a nondescript  strip plaza, next to an Indian grocery store and a Cluck-U Chicken location. But don't let the location fool you – the quality and service of the food served at Eccola is top notch.