Sunday, November 21st, 2010
Billy's Downtown Diner
10 East Broad Street
Bethelehem, PA 18018
Good Food : 4.5/5 | Good Service : 4.5/5
Since Bethlehem was a short drive from Allentown, we decided to head there again for breakfast. Billy's is a small nondescript place tucked into one of the downtown buildings. It's cozy inside, and the walls are lined with pictures of famous patrons such as President Clinton, Madonna and Chriss Angel (cousin to Billy the owner).
Billy's is not your typical diner but is more like a cozy cafe/eatery. The dining area consists of 2 and 4-person booths & a small counter against the back part of the building in front of the kitchen. We got there on a Sunday morning before 8:15am and were able to be seated immediately. However, by the time we left, there was a line of people against the front window area & I could see how crowded this could get during the lunch hour.
Pricing for the dishes were slightly higher than what you would find in a diner, but the quality of food in our minds justified the prices.
The breakfast menu is not your typical diner-fare menu – while there were several variations of benedicts, omelettes and starchy dishes for breakfast, we didn't expect the grits side since this is considered New England. I decided on the Yanna's omelette and my husband ordered the Berry Crunch with a side order of regular grits (the wild version comes with pepper jack cheese).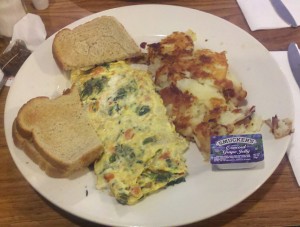 My omelet came with 4 triangle slices of buttered toast, a packet of grape jelly and Idaho home fries. The potatoes had an almost mashed-potato texture on the inside, with a crunchy crispy fried outer layer. The omelet was bursting with a generous mixture of spinach, sauteed onions, diced tomatoes and feta cheese chunks and while a little brown on the outside was still perfectly cooked inside.
The Berry Crunch was an unusual dish – 3 slices of skinny Italian bread that were fried on the griddle, topped with granola, dried cranberries, chopped nuts and fresh strawberry slices, topped with whipped cream & drizzled with a sugary syrup then dusted with cinnamon. This dish has the perfect balance of soft and crunchy – the bread was able to stand up to the syrup while the granola clusters and dried cranberries provided a crunchy fruity texture.
Great customer service – a waitress prompted asked us for our drink order when we were seated, was patient enough to come back 2 times as we waffled over the breakfast choices, and didn't hover over us despite the line forming at the front of the door. Coffee was refreshed promptly.