Wednesday, July 25th, 2012
Taka Sushi
555 5th Ave
(between Island Ave & Market St)
San Diego, CA 92101
Good Food : 5/5  | Good Service : 4/5
A sushi hankering and rave reviews on Yelp led me to Taka Sushi, located in the Gaslamp district of San Diego. After you wade through all of the trendy restaurants targeting tourists, you will find Taka Sushi tucked into a nook on 5th Avenue. If you're looking for those oversauced fancy rolls, you're going to be disappointed. But if you're looking for a very traditional sushi-type bar for die-hard sushi fans, then Taka is the place for you.
4 sushi chefs work behind the sush bar area, meticulously slicing and preparing the diners' order. It is worth it to get a seat at the sushi bar to watch these masters of sushi at work. Even though I was picking up a takeout order, I was invited to wait at the far end of the bar, where the master sushi chef was working. So I had a great view of the skill and care that was being put into the sushi bar orders, mine included.
I decided to try my staple (unagi sushi), the agedashi tofu, the tuna toro sushi and their special battera roll (as they had just run out of their saba battera earlier. The tuna toro was so fresh, that the fish melted in my mouth when I ate it, spreading the fatty tuna flavor thorough my mouth. It's hard to mess up unagi since it is pre-cooked and then sauced. The special battera roll consisted of fresh shrimp, minced crabmeat salad and tuna, and was topped with a thin slice of seaweed, black tobiko & minced green onions.
The agedashi tofu dish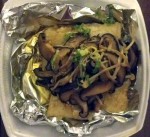 consisted of 4 large pieces of medium tofu cubes which has been dipped in a cornstarch batter and then deep-fried. The tofu cubes were then topped with slices of sauteed enoki and shitake mushroom slices, and came with a delightful 'umami' shitake broth that I poured over my tofu pieces.
While I can understand some people's complaints about the higher prices (my dinner came to a little over $50 USD), the quality of the fish being used and the level of care in assembling the sushi orders justified the higher prices being charged. I can see how the head waitress' customer service manner could be interpreted as gruff or inconsiderate, but it seemed typically no-nonsense Asian to me.