Tuesday, March 1st, 2011
Tortas Frontera
Chicago O'Hare Airport
Terminal 1/Near Gate B11
Good Food : 4.5/5 | Good Service : 5/5
During a recent flight layover, I decided to try Rick Bayless' new restaurant in the Chicago O'Hare airport – Tortas Frontera. The restaurant is located in Terminal One in the B gate area next to gate B11.  The restaurant space is decorated very nicely, and even though it is a small space it is a nice change of pace from the other stock offerings in the B gate area.
The menu board listing the various sandwiches, salads, soups and drinks makes it a challenge just to order one thing. Rick Bayless is very adamant about using local vendors to source his restaurants, and the vendors are prominently listed to show this support. Prices are unfortunately in line with the O'Hare pricing, and if you're looking for a quick buy and run, this is not the place for you. But if you're used to O'Hare's price gouging and have ample time between your flights, this is worth the money.
When placing an order, you're given a pager to prevent a bottleneck around the counter area. The tortas are made fresh to order – first the bread is prepped with the dressings and meat, then the sandwich is toasted in the griddle press, and finally dressed with fresh avocado or other sandwich fixings. Orders are packed in brown 'to go' boxes and recycled products are used whenever possible.
After waffling among the various choices, I ordered a Cubana torta. The cashier was nice enough to warn me that their sandwiches take about 10-15 minutes to prepare after ordering, probably due to initial complaints from travelers earlier this year when people didn't realize that the sandwiches are fresh-made and take time to assemble. Depending on whether a flight just de-planed, it can take anywhere from 10-15 minutes for one torta to be made. If you go with one of the molletes (open-faced sandwich), these are already pre-made and are simply toasted/warmed up when you order one of these. My torta cost me $11.00 plus tax = $12.21.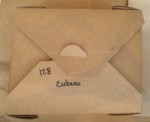 My cubana torta consisted of multiple layers – smoked pork loin slices, Nueske's applewood bacon, smears of refried black beans, chipotle mustard, poblano rajas, shredded Chihuahua cheese, streams of cilantro crema  and fresh avocado slices. Each sandwich also comes with a small container of smoked pepper salsa.
My cubana sandwich was put together in the following order -
Mustard, pork
Black beans, poblano rajas, bacon, shredded cheese
Toasted under sandwich griddle press
Avocado slices and crema
Cut in half
Packaged into brown 'to go' box
Pros -
Fresh-cut avocado slices
Very crunchy griddle-toasted bread
Smokey bacon slices
Cons
The slighty smokey pork loin flavor is lost among other strong flavors (bacon, poblano spread, mustard), and was a little tough
The high price
It's not a substitute for a sit-down experience at one of his restaurants, but it does allow you to sample the hype around Rick's approach to Mexican food.